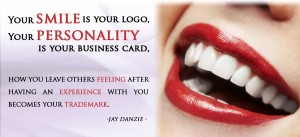 Dentist in Dallas TX, Dr. Robert Mitchell says, let's face it, your smile says a lot about you. Your smile and the condition of your teeth are a direct reflection of you. The number one thing people notice when they meet you for the first time is your smile. People with attractive smiles are generally more confident, happier, friendlier and seem to enjoy life more. They are also generally more respected an liked by others. Your smile really does matter.
Studies show that 99.7% of Americans believe a smile is an important social asset. Also, a more pleasant smile can help you get ahead in life. People want to date someone who is attractive and who takes care of their appearance. Employers want to hire and promote people who are more attractive and who have a warm friendly smile. Over 74% of Americans believe an unattractive smile can hurt a person's chances of career success. Your smile is one of your biggest assets. Dull, stained, crooked or missing teeth can negatively affect how others feel about you and it affects how you feel about yourself.
At your cosmetic dentistry consultation, Dr. Mitchell will talk to you about your smile goals. He may suggest porcelain veneers to transform flawed front teeth, professional teeth whitening to brighten discolored enamel, or Invisalign clear braces to straighten crooked smiles. If your appearance is marred by jagged or misshapen teeth, Dr. Mitchell will use his skill as a cosmetic dentist to artfully re-sculpt teeth with bonding and contouring. Smiles that require a variety of therapies to regain their glory can benefit from customized smile makeovers. Whatever your needs are, you can rely on Dr. Mitchell's extensive training in the field of cosmetic dentistry to give you the beautiful smile you've always wanted.
Take a moment to review our aesthetic dentistry services and then call our North Dallas dental office today to schedule your complimentary cosmetic consultation with Dr. Mitchell, an artistic cosmetic dentist. We serve patients from Highland Park, Plano, Richardson, and surrounding areas.