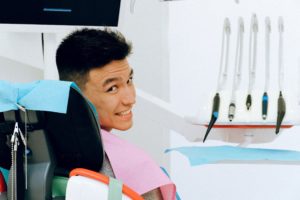 You have more options than ever before to address common aesthetic flaws, like discoloration or crooked teeth. However, Invisalign and veneers rank among the most popular cosmetic procedures every year, and for good reasons. Although both can create stunning smiles, there are differences between the 2 options. Here's what you need to know to determine if Invisalign or porcelain veneers are right for you.

What is Invisalign?
Invisalign is an orthodontic treatment that uses clear aligners to fix bite and alignment problems. Unlike metal braces, there aren't any brackets or wires. 
Instead, a series of aligners are worn over your teeth to apply continual pressure to move them gradually. They can resolve many alignment issues in as few as 12 months.
What Can Invisalign Fix?
Invisalign is a preferred choice among teens and adults who have misaligned teeth or bad bites. Clear aligners can correct crooked, overcrowded, and gap teeth. They are also effective in resolving open bites, crossbites, overbites, and many other problems.
Benefits of Invisalign
If you're embarrassed by a crooked smile, Invisalign offers several benefits, including:
A discrete alternative to metal braces.

Resolve many bite and alignment issues.

The average treatment takes 12 months.

No dietary restrictions.

Less time in the dentist's chair.

Easy maintenance and care.

Partially covered under dental insurance.
What are Veneers?
Veneers can fix gapped teeth, but they aren't an orthodontic treatment. A veneer is a thin shell that's bonded over the front surface of a tooth to improve its appearance. 
When applied to the teeth visible when smiling, they can correct many imperfections using one minimally invasive treatment. In as few as 2 weeks, you can have a picture-perfect smile that can last for a decade or longer with the correct care.
What Can Veneers Fix?
Veneers are versatile because they can correct several flaws, like dark tooth stains or discoloration. They are also a good solution for chipped or cracked teeth. Veneers can also cover minor alignment issues without needing to spend months wearing aligners or braces.
Benefits of Veneers
Veneers provide a convenient solution to turn the smile of your dreams into reality without needing to undergo several procedures. Overall, veneers offer many advantages, like:
Results that look and feel natural.

Correct many issues at once.

Quick, minimally invasive process.

An average lifespan of 10 years or more.

Cost-effective option to treat several problems.
Only a cosmetic dentist can determine which procedure is right for you. They'll examine your mouth and learn more about your goals to create the personalized plan you need to fall in love with the smile you see in the mirror.
About Dr. Robert Mitchell
Dr. Mitchell earned his dental degree from Baylor College of Dentistry and has regularly continued his education in various specialties, like cosmetic and restorative dentistry. He is an award-winning dentist and a member of many professional organizations, including the Academy of Cosmetic Dentistry. Contact our office today at (972) 688-6110.