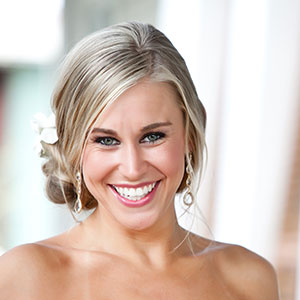 *Actual Patient
Beautifying Dallas Smiles with Porcelain Veneers
A recent poll by the AACD indicates that a beautiful smile can make you appear more attractive, confident, interesting, and intelligent. If your front teeth are less than ideal, we can help. Dr. Mitchell uses porcelain veneers to transform misshapen, stained, or damaged teeth.
Custom Porcelain Veneers
Custom-made veneers completely cover teeth to alter their shape, size, and color. They reflect light like natural tooth enamel, so they look and feel completely natural. Veneers are a custom restoration, which means they're individually created to give you a unique, vibrant smile.
It will take three visits to design and place your porcelain veneers. After your cosmetic dentistry consultation, Dr. Mitchell will remove a small amount of enamel from each tooth that's going to be covered by a veneer. Then, he'll take a dental impression and fit you with temporaries. A skilled ceramist at a trusted lab will make your custom veneers by hand. When your restorations are completed, Dr. Mitchell will remove the temporaries and permanently bond your porcelain veneers in place, transforming your smile and boosting your confidence.